Hello, welcome to: www.naturalway.net.au home of good and natural health and the home of my book: "don't follow the herd".
My name is Stella Davey. Eighteen years ago, I was given a second chance of life. "don't follow the herd" is the story of my healing, and the result of my determination that everyone else could get that second chance as well.
We also offer natural and chemical free Aroma Therapy and Pure Essential Oils which are below the order form.
Welcome also to my book: don't follow the herd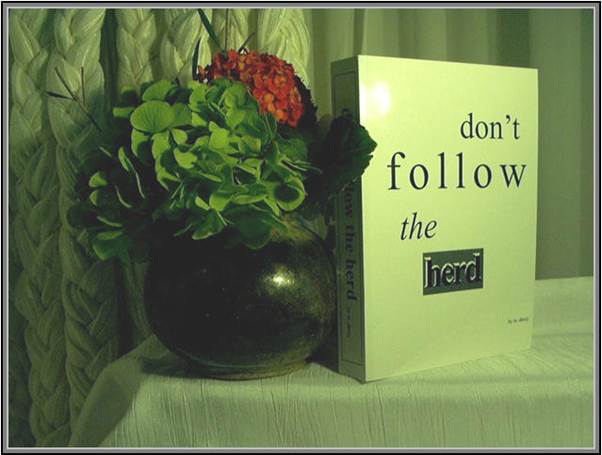 "don't follow the herd" is a true story that must be told….
On September 11, 2002, after a long and fruitless search for help, a professor of medicine said I had six months to live. I had contracted the bird flu virus at a Queensland airport. It invaded both lungs and modern medicine could not help. He said: "Get your papers in order and organise oxygen and a wheelchair.
The virus gave me emphysema and bronchiectasis, blood pressure, headaches, fever and nausea. It also came with a blood disease, hepatitis, lupus and rheumatoid arthritis. Having no immune system, I contracted two strains of Ross River fever and Barmah forest virus. I was smashed.
After visiting dozens of doctors, specialists and therapists of all descriptions, and after myriad x-rays, scans, hospital visits, drugs, supplements and magnetic therapy, matters seemed hopeless. In desperation I had tried almost everything.
On March 4, 2003, I met a phenomenal natural therapist: Elias Schindelar from Malanda on the Atherton Tablelands in North Queensland. We began working together and within 12 weeks, with his help and knowledge, the bird flu virus and some of the other viruses and diseases were dead. There was no need to take drugs or supplements and there were no gadgets: just good old-fashioned natural therapy, good food and logical information from Elias. I soon discovered people travelled the world to visit him. He connects the entire body, from the tip of the head to the soles of the feet, through the nerve system. His methods and success rates are amazing.
Many of my symptoms disappeared during the first five months. The healing process was outstanding, and I was over the moon. But the thought of the multitude of people with viruses and problems who did not have access to this honest, simple and vital information tormented me.
With Elias's support I began writing about why and how we get sick and why and how the body can heal itself. Six years later, this family book is called: don't follow the herd. I have met so many of Elias's clients who also healed themselves. One chapter is dedicated to their stories and how they healed breast, spine, lymph, liver and many other cancers; diabetes; brain tumour; and ADHD. Read about vaccinations; influenza A virus; leukaemia, regrowing a severed thyroid gland; arthritis and the IVF program; autism; obesity; stress and its effect on the body; and the list goes on. Most importantly, viruses need not be feared because they can be avoided and killed.
The science chapter explains the effects some foods have on the body, and why they cause diseases. And if the sun doesn't cause skin cancer, what does?
We examine: staying healthy; genetic engineering; hereditary diseases; kidney stones; menopause; antibiotics; blood donations/transfusions; blood pressure; positive and negative energy, etc. And to finish off, there are more than 215 recipes using the foods that heal.
don't follow the herd is for everyone. Its simple language and 432 pages are packed with information. I wrote this book because I wanted to make a difference.
Elias's incredible knowledge and natural therapy gave me a second chance to live my life with quality. I had an almighty fight on my hands. I chose to win.
My book is available by phoning (61) 40 879 6655, or 040 879 6655 in Australia, through mail order at: www.naturalway.net.au or by e-mail: 
IMPORTANT: When ordering please always add your telephone number (mobile and/or landline) when writing, e-mailing or texting. This makes it easier to contact you more promptly and sometimes, system incompatibility issues mean I am unable to reply to every e-mail address.
Stella Davey
---
HOW TO ORDER – PAYMENT – POSTAGE
PRICE OF BOOK TITLED: don't follow the herd –
$25 plus $10 postage and handling ( 2 to 6 books = $15) in Australia
FIVE METHODS OF PAYMENT:
Postal order
Cash Deposit at the bank (include your name)
Electronic Transfer (include your name)
Internet Banking (include your name)
Cash (e-mail or text me, give me your phone number, I will contact you and tell you the easiest method of doing it). BANK DETAILS: National Australia Bank. BSB: 084 687. Account Number: 663 928 942
Mail to: M. DAVEY. P.O. Box 3096. BURLEIGH TOWN. QUEENSLAND. AUSTRALIA. 4220.
---
We also offer natural and chemical free Aroma Therapy and Pure Essential Oils.
PURE ESSENTIAL OILS: 15ml. All are $10
The following is our range of Pure Essential Oils and Aroma Therapy blends. Every fragrance creates mood and atmosphere because each has a special character.
Some suggest floral or the tang of fruit. Some are woody, while others are sweet-scented, balmy and musky. Others possess the lingering whisper of warm spices. Kama Sutra in massage oils is a force to be reckoned. The subtleties of Opium are exquisite.
WE CARRY THE FOLLOWING:
Boronia
Citronella
Clary Sage
Clove
Coconut
Frangipani
Frankincense
Gardenia Jasmine
Kama Sutra
Lavender
Menthol
Neroli
Neroli & Coconut
Passion Patchouli
Opium
Peppermint
Orange Blossom
Peppermint
Romance
Rose Geranium
Strawberry
Tea Tree
Vanilla
White Musk
Ylang Ylang
AROMATHERAPY OILS: 15ml
Joy: $10
Stress Relief: $10
Calm: $10
Breathe Easy: $10
Suggestions on the use of PURE ESSENTIAL OILS:
The ways of using pure essential oils is limited only by your imagination. The following are a few suggestions:
Place a few drops of pure essential oils under the collar of clothes. This fragrance can be your own personal signature.
Place wooden skewers in a vase and add your choice of essential Oil. Place it safely out of the reach of children. The oil will saturate the wood and permeate the atmosphere. The fragrance will be a joy to come home too.
Colour co-ordinate small glazed pots to match the decor of your home. Half-fill them with balls of cotton wool. Drizzle a small amount of pure essential oil over the cotton balls and safely situate the pots throughout the home. Excellent for the office and in toilets.
Clothes will smell "delicious" if a few drops of Pure Essential Oils are added to the rinsing water in the washing machine.
Place a few drops of Pure Essential Oils in water over oil burners and place them safely around the home or office.
HOW TO ORDER PRODUCTS – PAYMENT – POSTAGE
ADD $10 FOR POSTAGE (if postage is over $12, we will contact you).
IF YOU WANT REGISTERED POST, PLEASE INFORM US.
ALL PRICES INCLUDE GST.
PLEASE SUPPLY US WITH YOUR LANDLINE TELEPHONE NUMBER OR E-MAIL ADDRESS WHEN ORDERING. WE MAY HAVE TO CONTACT YOU ABOUT POSTAGE OR IF STOCKS ARE LOW.
SORRY – WE DO NOT ACCEPT PERSONAL CHEQUES.
POSTAL ORDERS SHOULD BE MADE OUT TO: M. DAVEY.
YOU MAY ALSO PAY BY BANK TRANSFER OR BY DEPOSITING THE MONEY INTO OUR BANK.
BANK DETAILS ARE AS FOLLOWS:
National Australia Bank
BSB – 084687
Account number – 663928942
POSTAL ADDRESS:
• S. DAVEY.
• Post Office Box 3096. Burleigh Town 4220. Queensland. Australia.
TERMS AND CONDITIONS
Users of our products are advised to read the leaflet that accompanies every product and follow the instructions carefully.
We are not liable for any injury or illness suffered through the ordinary, incorrect or inappropriate use of our products and through the use of its products in any way that contradicts any or all of the terms and conditions governing the sale of our products.
As the ordinary or otherwise use of these products is outside our control, no representation or warranty, expressed or implied, is made as to the effect/s of such use/s, including damage or injury, or the results obtained.
Nothing contained herein should be considered as our recommendation as to the fitness of our products for any use.
Our products are not to be taken orally.
We advise our products should be stored in a safe, locked cupboard and well out of the reach of children.
If our products are accidentally swallowed, seek assistance from a qualified health care professional and/or telephone Information Hotline (Australia) 131126.
We recommend our products be stored in a cool environment.
Customers are advised to obtain advice from a qualified health care professional about any allergies they may suffer and what substances may irritate their skin. We also advise any person to seek advice from a qualified health care professional about any of our products before using them.
Customers are advised to learn what their skin reacts to: natural or otherwise.
We advise pregnant women not to use Pure Essential Oils.
We advise pregnant women to speak with a qualified health care professional about any of our products before using them.
Parents and carers of babies and children should seek advice from a qualified health care professional about any product they intend using on them.
Irritation or allergic reactions may occur with some people by using any product purchased from any source. To check for reactions before using any of our products:
Apply the product to a small section of the skin.
Wait for 24 hours.
If irritation or any adverse reaction does occur, rinse with cold water and discontinue use.
• All prices are in Australian currency.
• All prices quoted do not include postage.
• We will dispatch all orders upon receipt of full payment if the products is available.
• If we run out of products and they have to be made up, we will contact you by e-mail or by landline telephone. Please supply us with your telephone number.
We will not be held responsible where a customer's computer terminal is used without their consent. It is the customer's responsibility to maintain the confidentiality of access to their computer terminal.
All weights and measures are correct and proper at the time of production.
We do not take responsibility for goods after they have left our premises. However, insurance and registration can be arranged should it be required. This is payable by the customer.
We will ensure that all goods are dispatched in good order and in appropriate packaging.
All contact details provided by the customer are confidential and will not be sold or distributed to any other person, company or organization.
We are not liable to the customer or anyone else for any loss in connection with the use of this web site or a linked web site.
This web site is our copyrighted property.
We are the registered owners.
No person is to, in any form or by any means, adapt, reproduce, store, distribute, transmit, print, display, publish, create derivate works from any part of this web site, commercialise any information, products or services, from any part of this web site.
Customers agree that they are over 18 years of age, and that if they are under the age of 18 years that they are supervised by a parent or guardian whenever they use this web site. If we know customers are under 18 years, we reserve the right to refuse service and terminate an order.
By purchasing our products you agree that you have read and understood all the terms and conditions contained on this website.